England will take two Essex players to New Zealand for the world's most prestigious junior competition.
British Junior Open U17 finalist Elise Lazarus and Alice Green, England's No.1 ranked U-17 player, will travel to Tauranga, in the north of New Zealand, for the World Junior Team Championships on 12th July to take part in both the team and individual championships, with Jasmine Hutton and Lucy Turmel completing the line-up. More than 250 of the world's finest U19 players will represent their countries at the stellar event.
England last won the competition in 2001 with a team containing Alison Waters and Jenny Duncalf, having claimed the men's title the year before. Egypt will be favourites to retain the women's title they have won five times in a row but England Squash Junior Head Coach Lee Drew, also from Essex, said he felt the team could compete at the top level.
He said: "The players are strong, focused and will have a go at any opponent.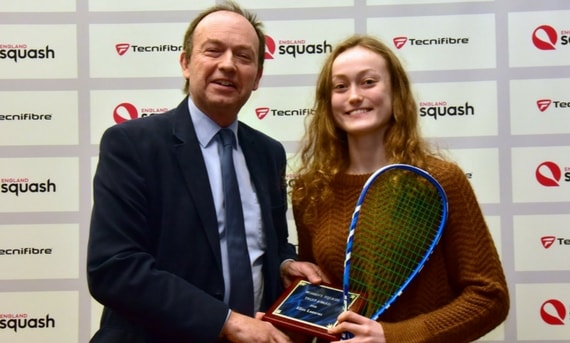 "They have already proven this by causing upsets on the world stage, beating established senior players that sat within the top 40 in the world. England will be looking to be competitive and challenging the other top nations for medals.
"We are taking four girls to compete in both the individual and team events. All four have developed consistently throughout the year and thoroughly deserve their opportunity to compete at the highest level on the World junior stage."
---
---
Elise and Alice were part of the U17 and U19 teams to win the European Championships, held in Prague and Lisbon respectively. For Elise, the Euros followed an impressive run to the British Junior Open final –where she was beaten 3-0 by Egyptian Hana Motaz Ayoub in January – and a 3-1 victory against the Netherlands' Milou van der Heijden in Allam British Open qualifying, who was ranked 39 in the world at the time.
England Academy player Kyle Finch, Tom Walsh and Adam Corcoran will represent England in the boys' individual competition, with the boys' team championship due to take place in India next year. Drew said all players could cause upsets and should have confidence in any match they play.
He said: "They will be ready to challenge and compete. Kyle and Tom have converted wins on the world stage and Adam is well placed to gain a scalp having played very well domestically. They're all robust and consistent performers."
The tournament takes place from 19th – 29th July.