ESSEX professional Daryl Selby captured the biggest title of his career lifting the 2016 Macau Open, PSA M50 title with a walkover against Hong Kong's Max Lee in the final.
Daryl captured his first PSA World Tour title since April 2012 after Lee was forced to withdraw from the final due to injury.
"I'm absolutely delighted with this. It's not the way I would want to win it, but it just happened. I was very much looking forward to play Max in front of this crown behind him. I feel very sorry for him after what he had done yesterday. I wish him a speedy recovery.
"I want to thank all the sponsors and people who are around here who have been working hard to make this event for us," said Selby, who won his 12th tour title. The victory caps a fine tournament for Daryl. who had upset the seedings in the semi-finals, defeating World No.21 Indian Saurav Ghosal 3-1, coming from a game down to secure the victory.
Daryl made some amends for the lack of a mens' final match by playing an exhibition match against Leo Au. He was also treated to a flight upgrade on his return journey to the UK capping a superb week's work.
In the women's tournament, New Zealnder Joelle King overcame a first game deficit to beat Annie Au, and thus breaking local hopes of a home winner. Whilst Annie Au is from Hong Kong, they are very much considered as locals in the community.
Just like the previous day, Au had started brilliantly, using a slower pace to dictate the flow and pouncing on any half opportunities that were presented. It was very quick points in the beginning, with Au inching ahead to 4-2. From here onwards, she slowly opens up a lead to 10-5 with her delicate drops that were either winners or created better opportunities for her to strike a winner, especially on the front right corner, which was evident in the last point as King scrambled to a weak return which Au finished off with a pin point drive winner.
The rallies in the second game went on longer than they did in the previous, as King got a hang of Au's drops and boasts, getting to them much earlier than she did. She also started to up the pace and soon got to a big lead to 6-1, but would next tin the next 2 to allow Au to close the gap 6-3. However, Au would return the favour with 2 tins to 8-3.
Things took a turn here when Au found her rhythm again and began to dictate the pace, hitting 4 winners in a row and closing the gap to 8-7. But she couldn't maintain this and lost the game 11-8.
In the third, King once again fell behind thanks to a funny bounce on the left side of the court. But she bounced back with 3 winners to go 3-1 up. She was denied a let in the next rally and it seemed to have fired her up as she began to strike the ball a lot harder to bring up the pace. It worked wonders as Au was struggling to keep up, falling behind to 7-3. Au clipped the tin in the next 2 points in an attempt to go lower for winner. King continued with the pace in the next 2 rallies and ran away with the game 11-3.
The fourth was by far the most evenly contested game, with each player never being more than 2 points ahead. King was behind in the first half of the game, until she took 4 points in a row from being 5-7 down. She got to game ball at 10-8 and would tin the next, drawing loud cheers from the crowd rooting for Annie Au. But an unfortunate ball that found the joint on the right side would give Joelle King a stroke, her biggest title of her career and an 11-4 head-to-head record against Annie Au now.
The Macau Open champion, when asked how she felt, later said, "I'm pretty knackered actually. I'm very delighted of course. It's the biggest title I've ever won. I was a little surprised with the (slow) pace Annie started with in the beginning and went for it when she had the chance. It's very hot in there and the temperature in New Zealand is quite different right now."
"I've had a good time here in Macau. I even had a go in the casino, but I'm more of an onlooker. I want to thank everyone, the sponsors, the helpers. Everyone involved, including the people who are here in the morning when we come to practice."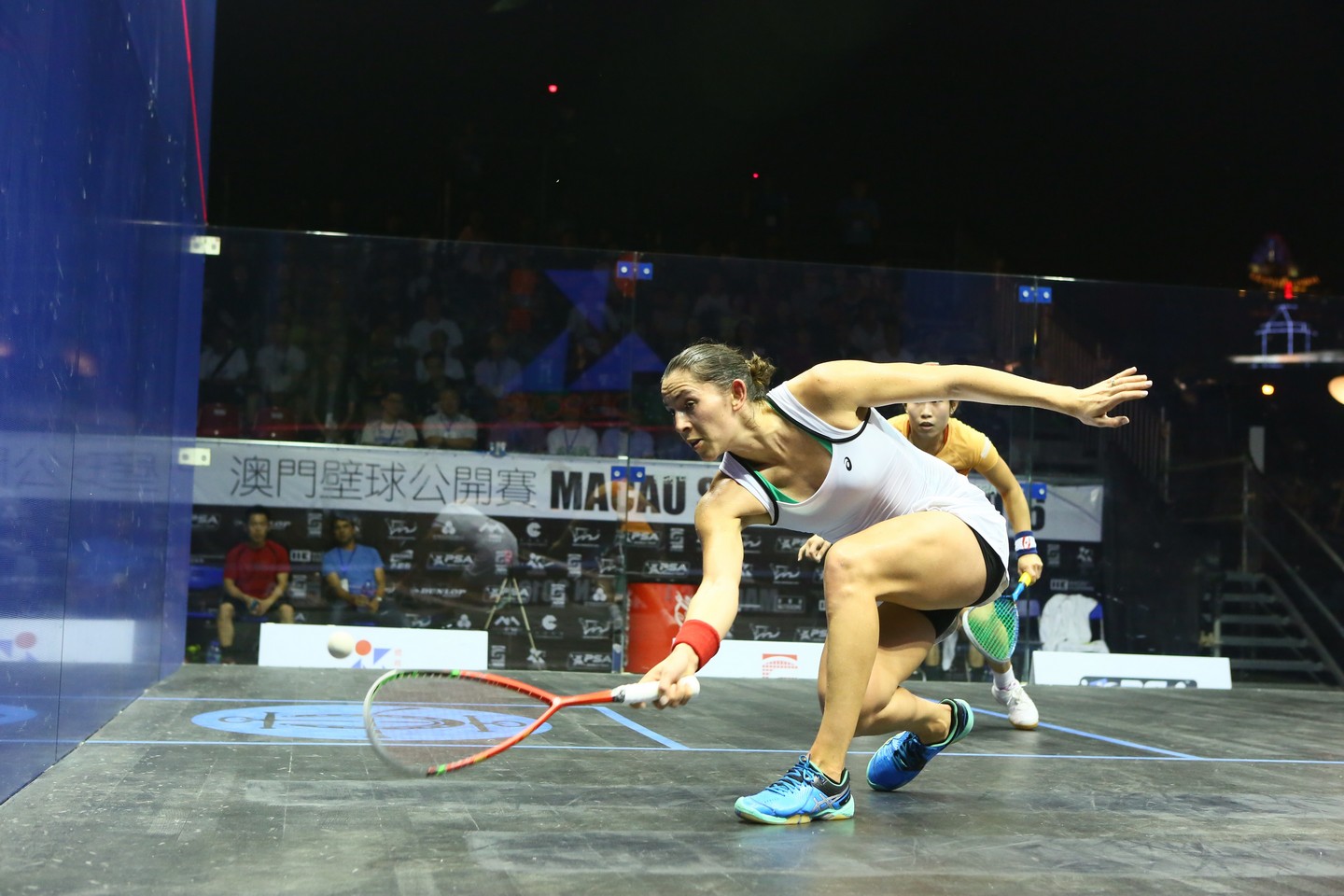 2016 Macau Open Finals:
Daryl Selby (ENG) bt Max Lee (HKG) walkover (injury)
Joelle King (NZL) bt Annie Au (HKG) 5-11, 11-8, 11-3, 11-9 (37m)
Pictures by  Macau Squash Association